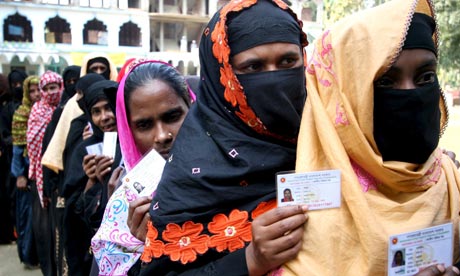 Bangladesh today held its first election in seven years amid heavy security, promising the return of democracy after two years of emergency rule.
The authorities deployed 650,000 police and soldiers across the country to prevent violence and vote fraud in a country that has a history of military rule and political unrest. The military declared emergency rule when the 2007 elections degenerated into violence.
Today's vote opened in a festive atmosphere in the capital, Dhaka, without reports of violence. Bangladesh's interim leader, Fakhruddin Ahmed, said the transfer of power to an elected government would be complete soon.
An alliance led by the former prime minister Sheikh Hasina, of the Awami League, has the edge in the vote for 300 parliamentary seats, most observers say, but others predict neither she nor rival and fellow ex-PM Begum Khaleda Zia will win an outright majority.
"Voting is people's constitutional right and I am happy to be able to exercise it," Hasina said after casting her vote at a Dhaka college shortly after polling started.
Zia, the leader of the Bangladesh Nationalist party (BNP), voted at a centre near her home around midday. "If the election is free and fair, inshallah (God willing) we will win and form the next government," she said.
Cheerful voters waited up to an hour in line to cast their ballots while others who had finished voting stayed on the streets to talk. Men and women voted at separate sites.
Both of the leading candidates face corruption charges and many fear the election will not improve conditions in this impoverished country of 150 million. The two have traded power back and forth for 15 years in successive governments marked by corruption, mismanagement and social unrest. Zia was elected prime minister in 1991, Hasina in 1996, then Zia again in 2001.
During that time a well-worn pattern has emerged: one party wins the election and the other spends the term leading strikes and protests, making the country hard to govern. Last year, both Zia and Hasina were jailed on corruption charges, which they dismissed as politically motivated. They were freed on bail and reassumed positions as the heads of their respective parties, the two largest in the country.
Clashes broke out on Saturday between supporters of Hasina and Zia, leaving 85 people injured in three different districts, the United News of Bangladesh reported.
In the north-western town of Chapainawabganj there were more women than men queuing to vote. "I've come here half an hour before the polling began. There are already 200 women standing in lines," said Tashkina Yeasmin, a local resident. "I don't mind waiting."
Women in this largely conservative, male-dominated country see voting as a rare opportunity to wield power. "This is one of the rare occasions when we can make our own decision," said Yeasmin.
Neighbours worry that an increasingly violent Islamist militant minority in Bangladesh could provide support and shelter for radical activists in their own countries. Both Hasina and Zia have pledged to crack down on violent extremists while promising to hold down prices and promote growth in a country where 45% of the population live in poverty.
http://www.guardian.co.uk/world/2008/dec/29/bangladesh-election

...!... ...!... ...!... ...!... ...!... ...!... ...!... ...!... ...!... ...!... ...!... ...!... ...!... ...!... ...!...
AN/Today

Africa News Today
"One better Africa is possible
"
::::::::::::::::::::::::::::::::::::::::::::::::::::::::::::::::::::::::::::::::::::::::::::::::::::::::::::::::::