2008-11-04
2008 Presidential Election Daily Brief: Election Day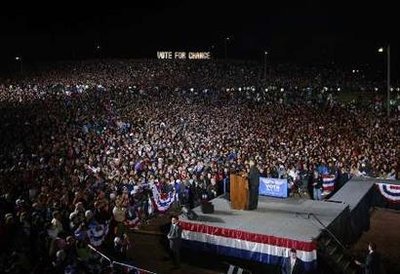 Arianna Huffington:
Okay, all the arguments have been made. And I am ready to declare a winner in the 2008 race. The Internet. While discussing with a friend an election night viewing party he's throwing, he announced there would be "televisions all over the place." "That's great," I said, "but just make sure the WiFi is working." Because this year, the laptop has replaced the television as the must-have election night device. Of course, we want the TVs, too -- but mostly just to see how the results are covered, what the anchors are saying, when they call it, how the winners and losers react, and how crazy John King gets with his Magic Wall. For real time results, however, the Internet will be the go-to destination.
Click here to read more.
Read election results liveblogs from Steve Clemons, Greg Mitchell, Kathleen Reardon, Jacob Heilbrunn, and Daoud Kuttab, in Amman, Jordan, plus more blogging from Chris Kelly, Eugene Jarecki, Keith Thomson, and many more.
There are rumors that the
New York Times
is not going to renew Bill Kristol's contract. I just pray they're not true.
On Daily Kos yesterday, Dante Atkins provided a smoking gun memo showing that the Mormon Church has planned for more than a decade to hide behind others in its attempt to suppress civil rights.
"How long did it take me to vote? As long as it took me to read the literature. We vote by mail in Oregon and it is AWESOME! My kids and I discuss the issues. They watch me fill in the blanks. i drive by a mailbox and I am done. And then the robocalls end!"
It's Election Day! What does it look like where you live? Snap shots of the lines wrapping around your city blocks, of enthusiastic volunteers, of polling places in chaos. We want to see it all -- the good, the bad and the ugly.