LUANDA - Movie goers line up to purchase tickets at a theater in Wuhan, Hubei province. China accounted for 8percent of the global film market with annual box-office receipts of $2.7 billion last year, according tofigures from the Motion Picture Association of America. Provided to China Daily
1,000 digital movie theaters with 3,000 screens in county-level sites
Movie ticket sales have gone crazy in the city of Panjin.
Compared with two years ago, in one of the fourth-tier city's "cineplexes" there are now nearlyas many tickets being sold in a month as there were in a whole year.
Annual box-office revenues in the city — in the southwest of Northeast China's Liaoning province — surged to 25.6 million yuan ($4.17 million) in 2012 from 2.65 million yuan the yearearlier, a year-on-year growth of 867 percent, according to statistics from EntGroup Consulting, a Beijing-based entertainment industry consultancy.
In April alone, the city's CJ CGV cineplex, owned by a South Korean theater operator, sold twomillion yuan's worth of tickets to 50,000 customers, said Guo Jinsheng, the manager of thetheater, which opened in January.
"And that performance is growing month-on-month," added Guo.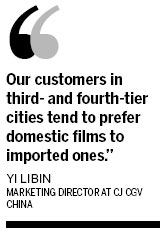 Panjin is now one of the fastest-growing third- and fourth-tier cities in terms ofbox-office receipts, and others cities enjoying similar growth include Langfangin Hebei province, and Yueyang in Hunan province.
Ticket sales are also gaining momentum in small cities in a countrythat is now the world's second-largest film market.
After the United States, China accounted for 8 percent of the globalfilm market with annual box-office receipts of $2.7 billion last year,according to figures released in March by the Motion PictureAssociation of America.
By May 12, China's total box-office revenues for the year exceeded8.1 billion yuan, up 39 percent.
Via|China Daily